Plant Guide
>
Mosses and Lichens
>
Lichens
>
Genus Peltigera
>
Dog Peltigera Lichen
---
Dog Peltigera Lichen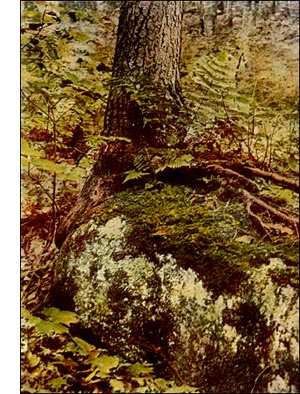 The Dog Peltigera, Peltigera canina, (L.) Hoffm.
Habit and habitat. This lichen grows in extensive patches on logs or on the ground.
Vegetative organ (thallus).-Large greenish-gray, ashy, or brownish: membranaceous, round-lobed; furrowed and downy on the upper surface: whitish beneath with light-coloured veins and hairs, sometimes becoming dark.
Fruiting disks (apothecia).-Reddish-brown; of large size; rounded, becoming semi-revolute and vertical. Supposed to resemble dogs' teeth and for this reason, on the supposition that "'Like cures like," used as a remedy for hydrophobia.
Name.-The specific name canina from the Latin canis, a dog.
Spores. -Somewhat needle-shaped; four- to eight-celled.