Plant Guide
>
Mosses and Lichens
>
Lichens
>
Genus Stereocaulon
>
Stereocaulon Paschale Lichen
---
Stereocaulon Paschale Lichen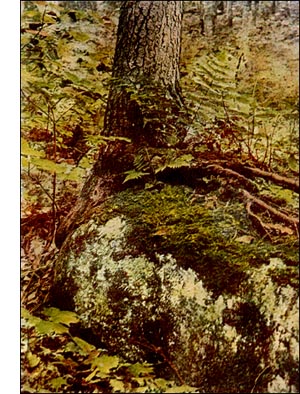 Stereocaulon paschale, (L.)
Habitat.-On rocks.
Vegetative organs (thallus).-Primary, usually wanting. Secondary, growing in round thick mats; podetia long and slender, much branched and covered with scale-like (squamulose), crenate, dark-gray granules and inconspicuous cottony fibres.
Fruiting organs (apothecia).-At or near the apicus of the podetia, small, with disk convex dark-brown.
Name.-The specific name paschale is the Latin for "Passover." Its significance is not evident.
NOTE: S. paschale is closely related to S. tomentosum which is as its name implies conspicuously covered with cottony fibres.