Plant Guide
>
Trees
>
Laurels and Sassafras
>
California Laurel Tree
---
California Laurel Tree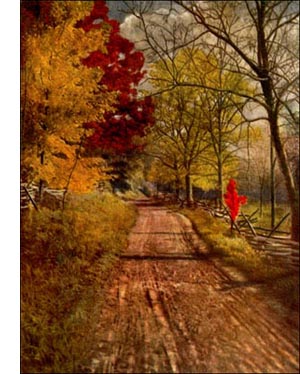 The California Laurel (Umbellaria Californica, Nutt.) is frequent among the broad-leaved maples in the forests of southwestern Oregon. It is a lover of wet soil, growing 80 to 90 feet high in rich bottom lands. It climbs the western slopes of the Sierra Nevada and extends to the San Bernardino Mountains in southern California, reaching altitudes of 2,500 feet, but keeping generally along waterways.
The beauty and stateliness of this tree impress all those who look with eyes that see upon the varied forest flora of California. It is strikingly handsome in a land full of handsome trees. Its willow-like leaves are lustrous and rich in an aromatic oil, which causes them to burn even when piled green on a campfire. The flowers, small but fragrant, bloom in December and January.
The plum-like purple fruits which fall in autumn have the peculiar habit of keeping their integrity long after the pit has germinated in the leaf mould under the tree. The plantlet has the distinction of being provided with a fresh fruit lunch which does not decay and disappear until well into the following summer.
The tree is planted in parks and gardens of California, and in southern Europe. Its wood is esteemed one of the most beautiful and valuable in the forests of the Pacific coast. It is used for interior finish of houses and for furniture. It is close, firm, hard and strong, rich brown, with pale thick sap wood. From the leaves an aromatic oil is extracted, and a fatty acid from the fruit.