Plant Guide
>
Trees
>
Yews
>
Old World Yew Tree
---
Old World Yew Tree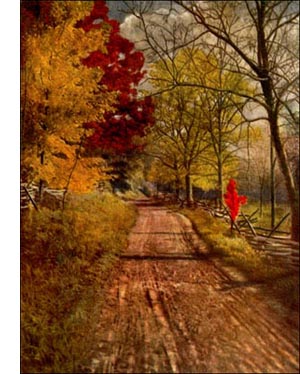 The Old-World Yew (T. baccata, Linn.) is native to Europe, Asia and Africa. Its history is interwoven with the growth of civilisation. In the folk lore of the English cottagers the yew was saddest of all trees except the cypress. Branches of yew were gathered to deck the house where a body lay awaiting burial. The heads of mourners were bound with chaplets of yew. The sombre yew tree drooping over a grave was a favourite symbol in our great-grandmother's samplers, even so late as a century ago.
Yews were planted in churchyards, especially in the south of England. Could any dirge be sadder than the lines above quoted, or any tree a better symbol of inarticulate grief? There was another idea that probably was considered to lighten the gloom of funereal thoughts. The yew is one of the long-lived trees. It was regarded in some quarters as the emblem of immortality. The name, yew, is believed to come from the same root as ewig, the German word meaning "everlasting."
In the early wars the yeoman drew a long bow made of the tough wood of his native yew. Spenser called the tree "the shooter eugh." The English soldier bent his bow; the Frenchman drew his. The former was too heavy to lift. Bishop Latimer describes its use by the soldier on the battlefield:
" Keeping his right hand at rest upon the nerve, he pressed the whole weight of his body into the horns of his bow."
Beside its toughness and elasticity, the wood has other admirable qualities. It lasts indefinitely in soil and exposed to the weather. Its grain is often as handsome as mahogany. The roots often show wavy areas, which when polished and made into tables vied in beauty with the ancient and precious citron wood. Burs of yew were a favourite veneer for tea caddies.
The best soil for yew trees is chalk, hence the tree grows its best in the Channel counties of England. Yet even in Scotland famous trees of remarkable age are recorded. The Fotheringal (Fortingall) Yew, 57 feet in circumference, proved by the rings of its stump that it had lived almost 3,000 years-"a world-old yew tree." "Addison's Walk," at Glasnevin, Ireland, lies between two rows of ancient yews. A close-bodied, compact tree, and tonsile beyond any other, the yew has always been a tree to cut into grotesque and geometrical forms for the adornment of gardens in England and on the Continent. In the United States it is similarly employed where formal effects are desired. The tree is also grown and allowed to take its normal shape and reach what size it will. It is offered by nurserymen in many varieties.