Plant Guide
>
Fruits
>
Orange fruit
---
Orange fruit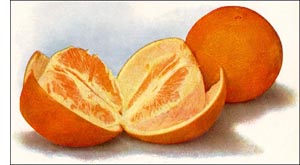 The tree which produces the well-known Orange of commerce is closely related to the lemon, the citron, and the lime, and with them belongs to the genus Citrus.
The Arabian physicians were familiar with the medicinal virtues of the orange and have spoken of it in their writings.
In more recent years the cultivation of the various varieties has spread throughout the world wherever the climate and the conditions of the soil will permit the ripening of the fruit.
Risso, in his valuable history of the Orange family, enumerates one hundred and sixty-nine varieties with distinct characteristics. Of these, he classes forty-three under the
Citrus aurantium
.
Besides the sweet and bitter varieties, the more common ones are the mandarin orange of China, a flat and spheroidal fruit the rind of which easily separates from the pulp; the tangerine, which is very fragrant and originally derived from the mandarin, and the Maltese, or blood orange, commonly grown in southern Italy and notable for its deep red pulp. There are many other varieties that bear geographical or local names.
Few forms of plant life present to the beholder more beautiful characteristics than an orange tree in full bearing. Such a tree, in addition to the unripe and ripe yellow fruit, has also numerous white flowers, which give off their wonderful perfume, and its symmetrically arranged branches are covered with rich dark green leaves. It is a tree that appeals not alone to the sense of taste, but to the esthetic nature as well.
Orange picture