Plant Guide
>
Grasses
>
Panic Grass
>
Cockspur Grass or Barnyard Grass
---
Cockspur Grass or Barnyard Grass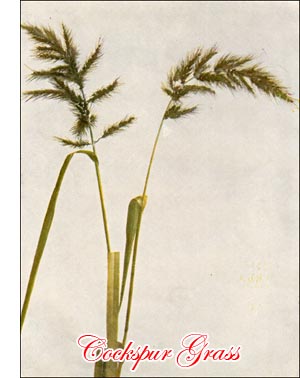 Cockspur Grass.
Barnyard Grass. Echinochloa crusgalli (L.) Beauv.
Annual. Naturalized from Europe.
Stem 1-6 ft. tall, coarse, erect, branching. Sheaths usually smooth, flattened. Ligule wanting. Leaves 6'-24' long, 3"-12" wide, rough margined.
Panicle 3'-12' long, coarse, branches erect or spreading, densely flowered on lower side. Spikelets ovate, 1-flowered, 1"-1 1/2" long. Scales 4; 1st scale minute, 2nd and 3d scales rough, about equal, 3d scale awned or awnless; flowering scale shining, enclosing a palet of similar texture. Stamens 3. A variable species.
Cultivated grounds, waste places, and by ditches. August to September.
Throughout North America, except in the extreme north.
Cockspur Grass picture