Plant Guide
>
Grasses
>
Brome Grass
>
Fringed Brome Grass
---
Fringed Brome Grass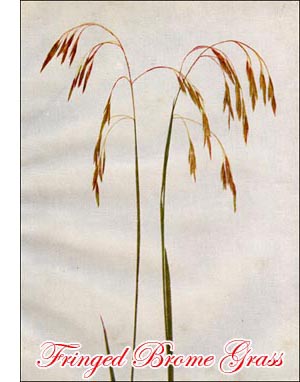 Bromus ciliatus L.
Fringed Brome-grass, one of the native species, is most frequently found in low grounds, where meadow and woodland meet in, a debatable border of half thicket, half marsh, as the meadow grasses give place to sedges and a few stragglers from the thickets advance toward more open country.
The stems of Fringed Brome-grass are stout and leafy, usually rising in groups which are very noticeable above a lower growth of plants.
The panicles are large and are composed of slender, branches bearing silky, short-awned spikelets.
Fringed Brome-grass. Swamp Chess.
Bromus ciliatus L.
Perennial.
Stem 2-4 ft. tall, erect, usually stout and leafy. Sheaths closed, split near top, frequently down. Ligule very short. Leaves 5'-12' long, 2"-6" wide, flat, roughish, usually downy on upper surface, dull or pale green.
Panicle 4'-10' long, branches slender, widely spreading or drooping, lower branches 2'-5' long. Spikelets 5-8-flowered, about 1' long, green. Outer scales acute, unequal, rough on keels; flowering scales 4"-6" long, obtuse or acute, downy near margins, 2-toothed at apex and bearing a short, straight awn 2"-4" long; palets slightly shorter than flowering scales. Stamens 3.
Damp soil in open woods and borders of thickets. June to August.
Newfoundland to New Jersey, west to Manitoba and Minnesota.
Fringed Brome Grass picture