Plant Guide
>
Trees
>
Papaw and Pond Apple
>
Papaw Tree
---
Papaw Tree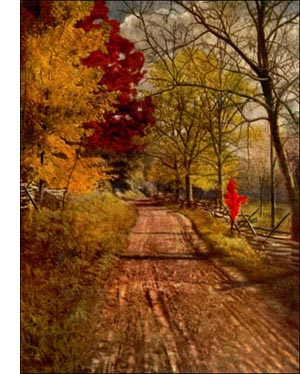 Papaw (Asimina triloba, Dunal.)-Slender, spreading trees or shrubs, 20 to 30 feet high. Bark thin, fibrous, dark brown, blotched with pale grey, beset with warts and a network of shallow grooves. Branches grooved, reddish brown. Wood light, coarse grained, weak, soft.
Winter buds small, flat, pointed, densely hairy, red. Leaves alternate, simple, clustering near ends of branches, obovate, tapering slenderly to base; 8 to 12 inches long, 4 to 5 inches broad, thin bright green above, paler beneath, on short petiole. Flowers in April, solitary in axils of last year's leaves; stamens in globular mass; pistils, many on disk; sepals 3, green, downy; petals, 6, veiny, purplish red, ill-smelling.
Fruit, 3 to 5 inches long, like a thick, shapeless banana, skin wrinkled and brown; flesh yellow, sweet, insipid. Ripe in September and October. Seeds, large, hard. Preferred habitat, rich bottom lands. Distribution, Southern States and north into Kansas, Michigan, western New York and New Jersey. Uses: Planted for ornament and for a curiosity. Fruit, in-different. Wood, inferior. Bark, used for fish nets.
This dainty little "wild banana tree" of the North is more interesting than it is useful, I am bound to confess. Its great leaves spread in umbrella whorls like certain magnolias, covering the upturned branches with a dense thatch of green. These leaves give the tree a tropical look, hinting at the fact that this is a fugitive member of a large family that belongs in the regions of no winter.
The papaw is not devoid of beauty in its blossoming time, though the flower resembles, and is not more conspicuous than that of the wild ginger that cowers in the woods. In April, the opening leaf buds have scarcely cast their scales when the winecoloured flowers appear, set at intervals upon the twigs. Then the leaves come out lined with a red fuzz, which intensifies the rich colour of the whole tree. The bees find the flowers worth visiting, but their odour is unpleasant to most people. Twigs and leaves share this disagreeable characteristic, and the fruits r; peat it in autumn.
The papaw's soft pulp, in its green banana-like envelope, is delighted in by the Negro of the South. It is sold in the markets, but is too sweet and soft to be really enjoyed by more fastidious people. One must get used to the pungent papaw taste, and then only the yellow-fleshed fruits are fit to eat. These are improved by hanging on the tree until they get a sharp bite of frost. The name, Asimina, means "sleeve-shaped fruit," and triloba refers to the three-parted flower.