Plant Guide
>
Trees
>
Tupelos and Dogwoods
>
Alternate Leaved Dogwood Tree
---
Alternate Leaved Dogwood Tree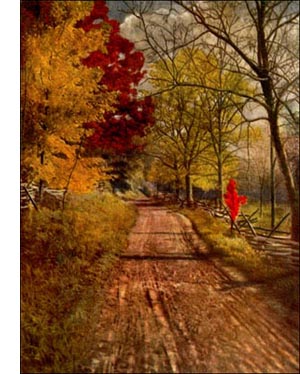 Alternate-leaved Dogwood (Cornus alternifolia, Linn.)A small tree or shrub, 15 to 30 feet high, with low, round head made of layers of horizontal branches. Bark smooth, reddish brown; twigs reddish green.
Wood heavy, hard, fine textured, brown. Buds pale brown, acute, scaly. Leaves alternate, 3 to 5 inches long, oval, pointed, entire, whitish beneath, on slim petioles. Flowers in May, creamy white, small, in flat cymes, 1 1/2 to 3 inches across, on short lateral branches. Fruits, October, dark blue, berry-like, 1/3 inch across, on red peduncles; nutlets c to 2, grooved.
Preferred habitat, moist, well-drained soil. Distribution, Nova Scotia to Minnesota; south to Georgia and Alabama. Uses: Handsome ornamental tree.
Dogwoods are among the few native trees with simple and opposite leaves-this is a fact well worth remembering. It is a key to many secrets of the woods. The most uninformed person can know by this simple means that a certain tree he never saw before is likely a viburnum, a maple or a dogwood. The ashes and buckeyes have opposite leaves, too, but they are compound.
The dogwood we are now considering is an exception to the rule of its family; it has alternate, instead of opposite, leaves. The blades have the general characteristics of the other dogwood leaves, but hang on longer stems. They turn in autumn to the soft, melancholy blue-reds, which seem to belong to the shadowy places the tree commonly frequents. An open situation is required to bring out the tints of scarlet and orange-the colours with sunshine and laughter in them.
On the margins of woods this platform dogwood shows to best advantage its shelving mode of branch arrangement. These striking and beautiful tiers or platforms of branches, leafy to the trunk, considered alone would make this tree popular as an ornamental. The flowers are showy by their numbers, though they lack the coloured bracts that belong to the other two dogwood trees. The black fruits also are profuse and noticeable upon their coral-red branching stems.